Register For This Event
Event Summary
We invite the UR community to attend the UR2020 Planning Meeting in Washington, DC, and help shape the next Understanding Risk Forum in Singapore. The planning meeting will take place Tuesday, December 11, 2018, on the sidelines of the American Geophysical Union Fall Meeting.  Like the previous planning meeting, this will be a fun and informal conversation exploring questions and emerging trends in disaster risk analysis and communication toward a vision for UR's 10-year anniversary. Examples of topics to be covered include:
New ways of engaging people in sessions and events
How to reach a broader, more diverse audience in DRM
Emerging trends in the field
Risk communication and art
UR2020 session ideas and theme
We recognize that much of the UR community is outside of Washington, DC and the USA, and regret that we cannot offer this meeting elsewhere at this time. We still want to hear from you, the community members! Use this short form to tell us what you hope to see covered in the planning meeting and at UR2020.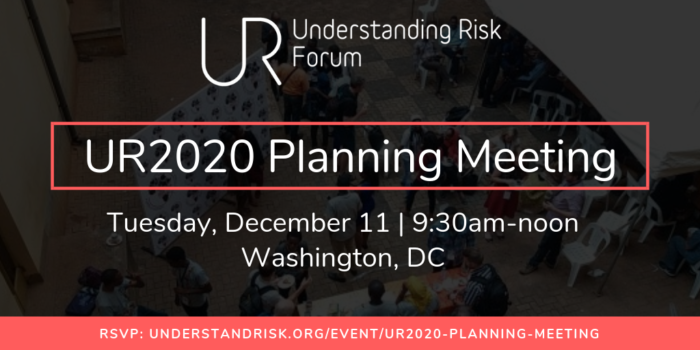 –
Timeline for UR2020
December 11, 2018: Planning Meeting
September 2019: Call for Session Proposals opens
May 18-22, 2020: UR2020 at Singapore Expo Centre