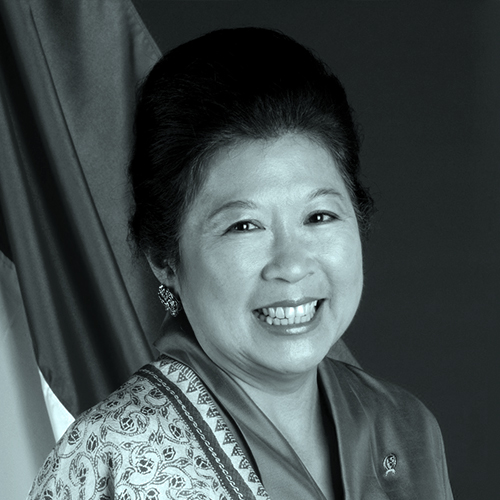 Mari Pangestu
Managing Director of Development Policy and Partnerships
World bank

Mari Pangestu is the World Bank Managing Director of Development Policy and Partnerships. In this role, which she assumed on March 1, 2020, Ms. Pangestu provides leadership and oversees the research and data group of the World Bank (DEC), the work program of the World Bank's Global Practice Groups, and the External and Corporate Relations function.
Ms. Pangestu joins the Bank with exceptional policy and management expertise, having served as Indonesia's Minister of Trade from 2004 to 2011 and as Minister of Tourism and Creative Economy from 2011 to 2014.
She has had vast experience of over 30 years in academia, second track processes, international organizations and government working in areas related to international trade, investment and development in multilateral, regional and national settings.
Most recently, Ms. Pangestu was a Senior Fellow at the Columbia School of International and Public Affairs, as well as Professor of International Economics at the University of Indonesia, adjunct professor at the Lee Kuan Yew School of Public Policy and Crawford School of Public Policy, Australian National University and a Board Member of Indonesia Bureau of Economic Research (IBER), as well as Centre for Strategic and International Studies (CSIS), Jakarta.
Ms. Pangestu is highly regarded as an international expert on a range of global issues. She served as Chairperson of the Board of Trustees of the International Food Policy Research Institute (IFPRI) in Washington D.C and as advisor to the Global Commission on the Geopolitics of Energy Transformation of International Renewable Energy Agency (IRENA) in Abu Dhabi. Her record of board and task force service includes the Leadership Council of the UN Sustainable Development Solutions Network (SDSN), co-chair of the expert group for the High-Level Panel for a Sustainable Ocean Economy, the panel of the WHO health initiative, the Equal Access Initiative, commissioner for the Low Carbon Development Initiative of Indonesia and executive board member of the International Chamber of Commerce (ICC). She has also served on the board of a number of private sector companies.
She obtained her bachelor's and master's degree in economics from the Australian National University, and her doctorate in economics from the University of California at Davis. She is married and has two children.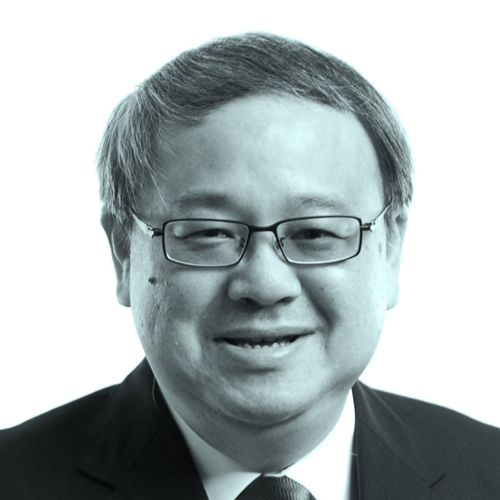 Peter Ho
Senior Advisor
Centre for strategic futures
Peter Ho is the Senior Advisor to the Centre for Strategic Futures and a Senior Fellow in the Civil Service College.
Peter Ho is Chairman of the Urban Redevelopment Authority of Singapore (URA), Chairman of the Social Science Research Council (SSRC), Chairman of the Singapore Centre on Environmental Life Sciences Engineering (SCELSE), Chairman of the National Supercomputing Centre (NSCC) Steering Committee, Chairman of the Campus for Research Excellence and Technological Enterprise (CREATE) Governing Council, Chairman of the Office for Space Technology & Industry (OSTIn) Board, and Chairman of PRECIsion Health Research, SingaporE (PRECISE) Pro-Tem Board Oversight Committee. He is a member of the Board of Trustees of the National University of Singapore (NUS), and a board member of the National Research Foundation (NRF), a member of the Board of Governors of the S Rajaratnam School of International Studies (RSIS), and of the Lee Kuan Yew School of Public Policy (LKYSPP).
When he retired from the Singapore Administrative Service in 2010 after a career in the Public Service stretching more than 34 years, he was Head, Civil Service, concurrent with his other appointments of Permanent Secretary (Foreign Affairs), Permanent Secretary (National Security & Intelligence Coordination), and Permanent Secretary (Special Duties) in the Prime Minister's Office. Before that, he was Permanent Secretary (Defence). He was also the inaugural Chairman of the Maritime and Port Authority of Singapore.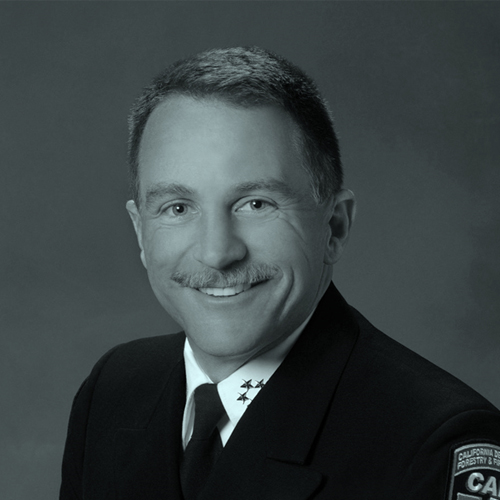 Ken Pimlott
Chief of CAL FIRE
retired
Chief Pimlott began his fire service career in 1984 as a reserve fire fighter in Contra Costa County, California. He joined CAL FIRE in 1987 as a seasonal fire fighter, and ultimately worked his way through the ranks to Director, a position he held from 2010 until his retirement in December 2018. Chief Pimlott has a Bachelor of Science Degree in Forest Resource Management from Humboldt State University and is a Registered Professional Forester in California. Under his leadership, CAL FIRE and the State of California battled historic wildfires and an unprecedented bark beetle epidemic while at the same time increased the pace and scale of forest management and fire prevention. Chief Pimlott participated in numerous committees at the State and national level and testified before Congress on multiple occasions in support of legislation related to forest management and fire protection, including the federal fire funding fix.
The production of this keynote is brought to you with support from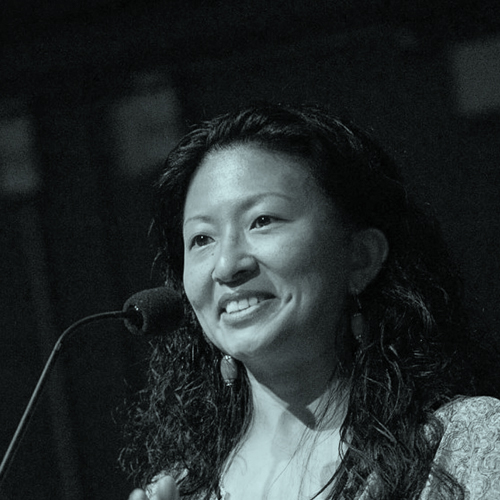 Losang Rabgey
Co-Founder and Executive Director
Machik
Born in a Tibetan refugee settlement in India and raised in Canada, Dr. Losang Rabgey holds a Ph.D. from the University of London and is the first Tibetan to hold a graduate degree in feminist anthropology. Rabgey is also the first Tibetan Commonwealth Scholar and National Geographic Explorer. In 1998, she and her sister, Dr. Tashi Rabgey, co-founded Machik, a non-profit whose mission is to grow a global community of care for a stronger future for Tibet. In the last two decades, Machik has supported education for thousands of rural youth in Tibet and the diaspora. The organization has also supported Tibetan change-makers in Tibet—particularly in rural communities—who work in education, film, gender equity, conservation, and HIV/AIDS awareness. Gender equity has always been a key focus of Machik's work through programs like the Mother's Wish Foundation—providing support for women's higher education—and the Machik Gender Summit. Dr. Rabgey and her sister have been named by Harvard Law School as "Women Inspiring Change," a recognition which has included—among others—Stacey Abrams, Justice Sonia Sotomayor, and Kamala Harris. Dr. Rabgey and her family were recently honored with the Meritorious Service Cross by the Governor-General of Canada. A frequent public speaker, Dr. Rabgey has presented at Yale University, Harvard University, UC Santa Cruz, and the Nobel Peace Forum, among many others. Rabgey first traveled to Tibet with her family in 1987.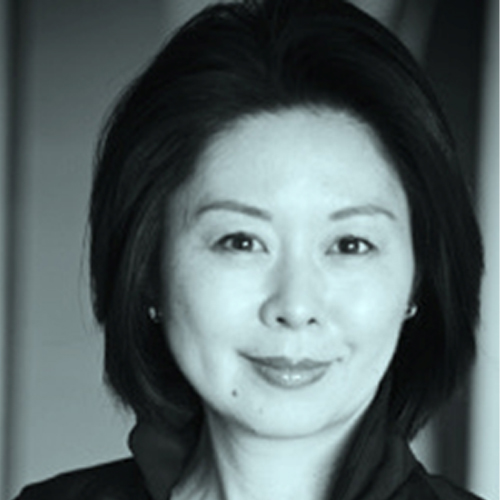 Kaori Enjoji
Journalist
Host of UR2020
From the early outbreak aboard a cruise ship to the abrupt fall of the country's longest serving prime minister, Kaori Enjoji spent most of 2020 in Japan reporting about the pandemic and its social, political and economic impact for CNN.
After graduating from Columbia University's Graduate School of Journalism, she joined Reuters as a correspondent to work in the Tokyo and London bureaus. She later switched to television to serve as CNBC's bureau chief based in Tokyo. Storytelling has been her passion since she first saw the World Press Photo exhibition as a teenager growing up in Amsterdam. Kaori was raised on three continents and is bilingual in English and Japanese. She is also proficient in Dutch and French. She reports for print, television and online media by melding those languages and cultures in an unscientific mix. She is currently working on a documentary project to mark the ten years since the Fukushima nuclear disaster. In her free time, Kaori enjoys being beaten in a good game of shogi by her teenage son.