By Sarah Gordon, PhD, Satarla
Session lead for Tying the Knot
A risk bow-tie is a visual method through which all key knowledge regarding a risk can be portrayed on a single page. Bow-ties allow discussions and decisions to be made in an objective and rapid manner by organisations that use them. This is especially useful when knowledge needs to be collected from a range of specialists and communicated in a coherent, integrated manner.
Originally used as an incident investigation tool, risk bow-ties are now used real-time in workshops to help organisations prepare for future opportunities or threats to their business objectives. It is possible to capture the essence of a risk in just 5 minutes, using the framework to structure more detailed analysis.
Used around the world in diverse contexts, risk bow-ties have helped many different organisations better understand their risks. We see a critical opportunity for this tool to help  improve the understanding of disaster risk as well.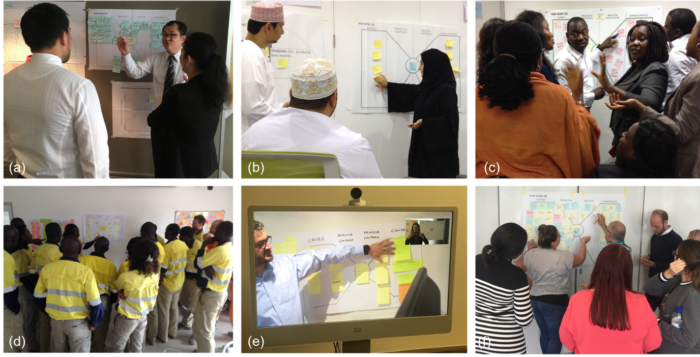 Bow-ties don't always have to use sticky notes (but they don't hurt)! They can also be recorded and used to communicate the key facets of a risk to a broader audience. For example, Fig. 2 shows the causes, controls, and consequences for the failure of a waste facility in the mining industry, commonly known as a Tailings Dam. This example has been used to educate governments, the general public, and those working in mining about the reality of this risk.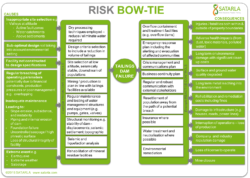 Tailings dam:  The requirement for tailings dams pose a significant risk to the mining industry and all those connected with such facilities, be they communities, governments, or the companies themselves.  The failure of the Bento Rodrigues tailings dam on the 5th November 2015 in Brazil (Samarco) resulted in 17 lives being lost and 60 million m3 iron waste being released into the Doce River.  To date 21 Directors of the company have been charged with homicide and the estimated cost to the owners is $43 Billion.
Bow-ties for Disaster Risk
In an interactive session at the 2018 Understanding Risk Forum, Satarla will lead participants through an introduction and activity applying the risk bow-tie method in a disaster risk scenario. The goal is to explore how the disaster risk identification community can learn from and implement this business strategy. Learn more about the session, and UR2018 here!