By: Ron Eguchi, ImageCAT
Shanna McClain, NASA DISASTERS
"A picture is worth a thousand words," – it's a well-known saying, but so is, "Actions speak louder than words." When it comes to satellite imagery, these pictures can help direct actions to manage disaster risk.
As losses caused by disasters continue to rise, investment in action to mitigate or reduce risk is critical. We cannot prevent natural hazards, but we can address the underlying drivers of risk to minimize disaster impacts. Doing so relies heavily on our ability to understand risk, which is where Earth Observation (EO) data comes in. EO data supports action to address existing risks and avoid development of new risks by managing hazard, exposure, and vulnerability.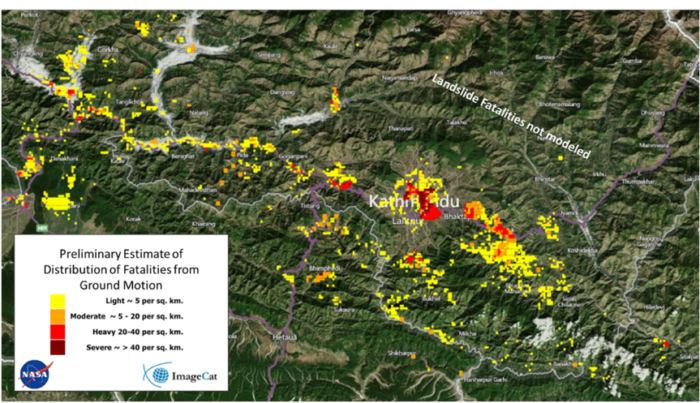 Despite the obvious utility of EO data, the use of these important datasets remains limited. This disconnect comes down to the communication among imagery providers, translators, and users. There are a number of reasons why potentially valuable data go unused. Here are a few:
it's the wrong type of data for the task at hand
visualizations don't automatically translate to decisions
end-users are not effectively trained in the use of the data, and therefore, do not know how to integrate these new datasets into existing workflows
So how do we get from imagery to action? To overcome these challenges, an important dialogue must be established among involved stakeholders: (1) providers of imagery, e.g., NASA, commercial satellite companies like DigitalGlobe, (2) the translators who produce pre- and post-disaster products (risk modeling companies, research organizations, universities), and (3) the users of this information (first responders, field engineers, NGOs, search & rescue teams, etc.).
High resolution satellite imagery was previously only available to government agencies (mostly military), but now it has become readily accessible to the public and to commercial entities that use it to create derived products. This recent change has resulted in a rapid expansion in the number of use cases for EO data, which might explain why providers, translators, and users are still working out how to communicate with each other.

EO data is a resource for quantifying community risk and visualizing the interconnectedness of populations, key infrastructure, and climate-related processes. Through high-resolution optical imagery and active sensors, remote sensing technologies enable disaster risk managers to quantify pre-disaster vulnerabilities as well as post-disaster damage. Remote sensing is also used to monitor recovery and reconstruction after significant disasters. More recently, it was used to develop exposure information for urban infrastructure.
Investing in risk mitigation before disasters occur is key to reversing the trend of ever-increasing losses from disasters, which are especially devastating in developing countries. The past several years have brought research and application of EO imagery to delineate areas of urban development as well as the locations of critical infrastructure, e.g., roads, highways, bridges. Using a variety of satellite sensors in combination with locally collected data (including global census data), researchers have been able to construct inventories of buildings with regional profiles of building construction type, size, and occupancy. Based on this information, analysts quantify the expected damage or loss to communities from a wide range of natural hazards. Risk profiles make it possible for in-country policy makers to consider systematically how best to address risks for both urban and rural settings.
Where do we go from here? Let's talk about it
In our technical session at the 2018 Understanding Risk Forum, we will bring together international leaders in disaster risk communication and management with the technologists and scientists who generate EO-based products in an exercise to drive the dialogue forward – from data to decisions.
The session will walk participants through a scenario and place imagery from past disasters and post-disaster impacts into the hands of the decision makers. The goal is two-way communication of common challenges and opportunities for identifying and reducing future risk.  In addition to this exercise, a panel of experts will provide various perspectives on how EO-based imagery can be better packaged to more effectively address issues in risk reduction and resilience. To set up the exercise, we will leverage fresh ideas from the UR Interdisciplinary Pressure Cooker, which will bring together 30 youth from around the world to practice time sensitive risk communication. We will be especially interested in the role – perceived and/or actual – that technologies play in risk reduction and resilience enhancement.
Related side event: https://understandrisk.org/event-session/from-space-to-finance/
Interactive Pressure Cooker Event https://understandrisk.org/event/risk-communication-ur2018/