Aftershocks: Remodeling the Past for a Resilient Future aims to provide readers with an accessible look at what would happen today if we were to experience some of the iconic disasters of the past. The report explores how risk modeling can be used to analyze natural events that led to the major disasters of the past, and to understand how these events might impact today's more populous and connected world.
The events included in Aftershocks were selected to represent a range of regions and hazards, and to illustrate the evolution of exposure and how vulnerability translates into risk. They were also chosen to illustrate the impacts of disasters on a range of sectors, including agriculture, infrastructure, the supply chain, and—in the case of the Carrington event—the vulnerable "digital cocoon" in which we have encased the world. Finally, the events were chosen to highlight diverse areas of engagement in disaster risk management.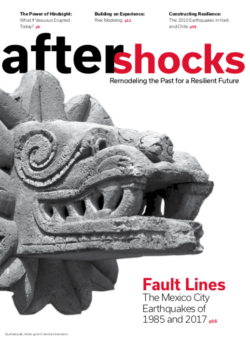 Most of the disasters documented here took place in the developing world, where population growth, rapid urbanization, and climate change are heightened, and where the impact of adverse events is exacerbated by the vulnerability of poorer communities, who are disproportionately impacted by disasters. This report makes the case for renewed support to the poorest of the poor.
Files
Organizations
Global Facility for Disaster Reduction and Recovery (GFDRR)