On May 31, one day before the start of the hurricane season, CDEMA and partners (World Bank, European Union, Global Facility for Disaster Reduction and Recovery) hosted a "Crisket" match (Cricket + Risk) to raise public awareness of disaster risk across the region.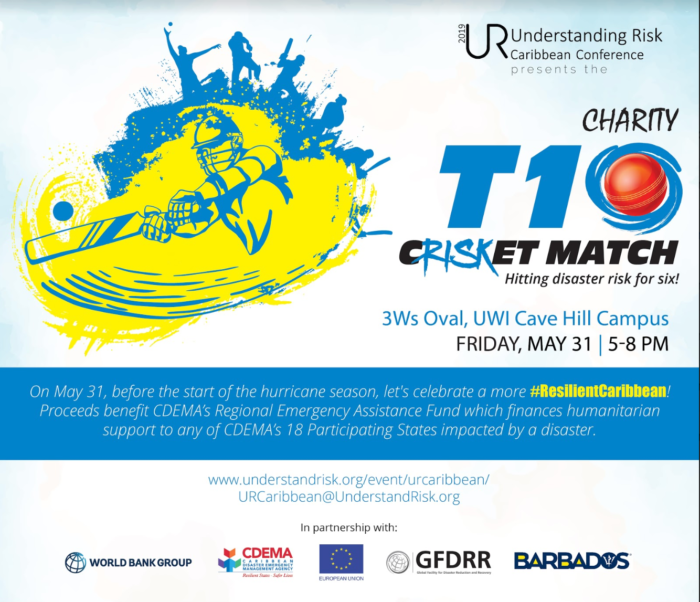 Two seasons ago, Hurricanes Irma and Maria wreaked havoc on many islands in the region, further cementing the need for countries, public and private sectors, academia, NGOs, citizens to collectively take action to reduce the fiscal, physical and socio-economic impact of hurricanes, volcanoes, earthquakes, floods, landslides etc.
The cricket match wraps up the Understanding Risk (UR) Caribbean Conference – that consisted of five days of sessions and workshops, delivered by more than 20 regional and international organizations, for 500+ participants from over 20 Caribbean countries. The conference serves as a foundation to further action across the region.
The game of cricket offers an elegant way to think of disaster risk in the Caribbean region. Think of the ball as a hurricane, spinning as it advances towards the vulnerable wicket, threatening to hurt those who are not well protected. Right now, we have talented players who can see the danger coming, and anticipate its direction and likely impact, well before it hits… just like an early warning system for hurricanes! Imagine if you were playing with a partial blindfold, unable to know what may hit you when… This T-10 will invite us to reflect about risks in the Caribbean, from the lens of Cricket.
Check Out Some of Our Featured Players!
Players from the region that participated included Tino Best, James Adams, Sylvester Athanaze, Ridley Jacobs, Donald Barthley (Zorol), Nixon McLean, Michael Matthews, Sherwin Campbell, Resheleel Griffith, Kyle Mayers, Charlene Taitt, Dwayne Smith, Nikita Miller, Philo Wallace and more.