We are excited to be welcoming you in Singapore soon! Before planning your travel, you may find it helpful to check the below logistics information about Singapore and the venue.

The Conference will be split into 3 Main Conference Days and two Focus Days. Several other activities will take place throughout the five forum days. A detailed agenda will be published soon on our website.

Language (s)
While Malay, English, Mandarin, and Tamil are the official languages of Singapore, almost everyone speaks English because schooling is predominately done in English.
Measurement units
Singapore utilizes the metric system for distances (km), and Celsius degrees (ºC) for temperature.
Electricity
Voltage in Singapore is 230V at 50Hz. You can use your electric appliances in Singapore, if the standard voltage in your country is in between 220 – 240 V (as is in the UK, Europe, Australia and most of Asia and Africa). Manufacturers take these small deviations into account. Power plugs and sockets are of type G. This type is of British origin and has no alternative plugs.

Climate
Singapore is situated near the equator and has a typically tropical climate, with abundant rainfall, high and uniform temperatures, and high humidity all year round. Many of its climate variables, such as temperature and relative humidity, do not show large month-to-month variation. Average temperature is 26°C to 32°C. You may also want to check the weather forecast at www.accuweather.com

Currency
Singapore uses the Singapore Dollar (SGD). The Bruneian Dollar (BND) is also a legal currency. It is most unlikely that USD or any other foreign currency will be accepted in Singapore, if not in some major shopping centers. Foreign currencies, travelers' checks, and personal checks can be changed at most banks and licensed money changers. The exchange rate from USD to SGD fluctuates, but as of November 2019 USD1 is approximately equal to SGD1.36.

Getting Singapore dollars before you arrive
You should have some SGD on hand upon your arrival in Singapore to buy a bottle of water, a snack or perhaps pay for a taxi ride. You may pay taxis with credit card, but they could add a 10% fee for credit card payment. The rate to get from the airport to the city center is about SGD20-35. To get cash upon your arrival, ATMs and moneychanger points can be found all around the airport.

Where to exchange your money
You can exchange your money upon arrival at the airport or in many of the international hotels, but the exchange rates may not be the most convenient. You may want to exchange your currency at one of the many "Licensed Money Changer" places, they are approved, supervised, and regulated by the Monetary Authority of Singapore or MAS. To find the most convenient and reputable money changers please check cashchanger.co/singapore

Debit cards and credit cards: what you need to know
The most commonly accepted credit and debit cards in Singapore are Visa, MasterCard and UnionPay. In larger cities and tourist destinations, you should have no problem using these credit or debit cards. However, it's always a good idea to have enough cash on you to get you through the day. In Singapore, restaurants, supermarkets and shopping centers often require a SGD20 minimum purchase for use of credit or debit cards. Taxis may also charge a 10% fee for payment by debit or credit card.

Getting to Singapore with Singapore Airlines
Singapore's Changi Airport is one of the best connected airports in the world. Changi is handling over 100 airlines connecting you with about 400 cities. Singapore Airlines, the flag carrier of Singapore, has its headquarters at Changi Airport and has provided UR participants with exclusive airfare for business, economy standard and flexi tickets. To take advantage of this offer, use promo code "UR2020" here: https://www.singaporeair.com/en_UK/promocode/
How to get from Singapore Changi Airport to the city center
The airport provides multiple transit options into the city, all accessible directly from the majority of terminals at Changi and all at reasonable prices, operating for all hours of the day and night.

Changi airport taxis are available 24/7 and will take you in to the city in approximately 25 minutes for around SGD25 – note that this price is affected by a variety of factors. The bigger taxi companies such as Comfort (blue color) and CityCab (yellow color) do accept major credit or debit cards. All cabs should have a sign on the passenger side window indicating the modes of payments accepted (i.e. Visa, Mastercard), if they don't have this sign, they do not accept credit card payments. In any case, you should check with the driver before boarding that your intention is to pay with a credit card as sometimes their machines are switched off. To get cash upon your arrival, ATMs and moneychanger points can be found all around the airport. Alternatively, there are two methods of public transport, by metro (MRT) or bus. The MRT will take you into the city for SGD2, or SGD1.75 with an EZ-Link card and take around 30 minutes. The MRT is available in the basement of Terminals 2 and 3 at the airport; the signs directing you should say "train to city".

Getting around the city
When trying to get around the city, the best forms of transportation are the MRT, bus, or taxi. For taxis, many places will have taxi queues outside of them or you can call a cab. To call a cab, here are some phone numbers:

Common Taxi Booking Number: 6342-5222
Comfort & CityCab: 6552 1111
SMRT Taxis: 6555 8888

A very popular alternative is GRAB, the Singapore version of UBER or Share-now. You may download the app from the various appstores, it works very well, however, you will need roaming or wifi to access.

ATMs
ATMs are all around Singapore and it's relatively easy to find ATMs that don't charge a foreign transaction fee. Larger banks tend to charge smaller transaction fees. The largest banks in Singapore are DBS Bank, OCBC Bank and United Overseas Bank.
ATMs will ask if you would like to pay for the withdrawal of SGD in your home currency (known as "Dynamic Currency Conversion"). You will get a better deal if you withdraw in SGD and not your home currency. This applies to other point of sale transactions.

Food and drink
Singapore has a wide variety of incredible food. If you are looking for something to eat when not at the conference, then check out hawker centers. Hawker centers are marketplaces in downtown that have many stalls of different foods. Some stalls take cards, but it is best to have cash. These are cheap and cultural institutions in Singapore. You will not be offered napkins at the food stalls, but instead can buy a pack of tissues from people selling them throughout the market. People will often save their tables by placing the pack of tissues on top to indicate the table is occupied. Likewise, if you see a table with a tissue pack, note that it is not free for you to occupy.

Tipping
Tipping is not customary in Singapore as it is in the U.S. You don't need to worry about paying tip for using any services in Singapore. However, there may be times that you want to reward a waiter or bellhop for providing excellent service. Most restaurants in Singapore add a 10% service charge to the bill so a tip is not expected. If you insist on tipping your waiter, it is best to hand the cash directly to the person as some restaurants take the tips that are left on the table.
Tipping bellhops at hotels is not compulsory but acceptable. SGD1-2 per bag is reasonable.
Taxi drivers do not expect a tip. If you give them extra, they will automatically give back your change.

Phone calls
Emergency services throughout Singapore can be accessed by dialing the following numbers:
EMS, Ambulance and Fire Rescue: 995 Emergency Police: 999 Singapore's country code is +65.
Check roaming charges with your service provider for calls from your cell phone. We recommend you purchase a phone card, you can buy tourist SIM cards for around SGD15 from post offices, convenience stores and telco stores – by law you must show your passport.
To make a call follow these steps:
There are no area codes within Singapore; telephone numbers are eight digits unless you are calling toll-free (1800)
Mobile phone numbers start with 8 or 9
To make a call to the USA and Canada dial 001 + area code + number
To make a call to foreign countries dial 00 + country code + area code + number

Event information
MAX Atria at SingEx
Address: 1 Expo Drive, Singapore 486150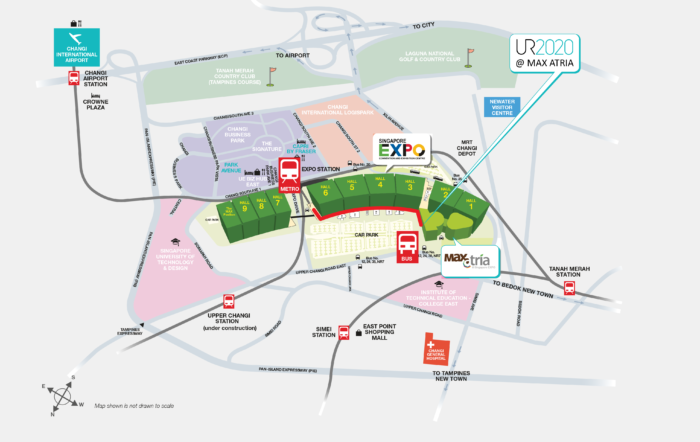 Singapore EXPO & MAX Atria is located within 5 minute drive from the airport and about 30 minute drive from the Downtown Core district.

How to get there:
By train:
Singapore EXPO & MAX Atria is served by two MRT lines: the East-West Line and Downtown Line. The EXPO MRT station is next to Hall 6.
Trains arrive every 5 minutes from Changi International Airport and Tanah Merah MRT station. Change to the Changi Airport branch line of the East-West Line at Tanah Merah MRT station if you are coming from CBD areas such as Raffles Place and Tanjong Pagar.
On the Downtown Line, it takes only 30 minutes from CBD areas such as Clarke
Quay, Marina Bay and River Valley.

By bus:
Six bus services ply the routes around the Singapore EXPO & MAX Atria. These are the bus stop numbers to alight:
96229 – Singapore EXPO & MAX Atria: Bus services 35, 47 and 118
96029 – Expo Halls 1/2/3: Bus services 12, 24, 38
96029 – Expo Halls 1/2/3: Bus services 12, 24, 38

By taxi:
There are numerous taxis available in Singapore that offer reliable services. The taxi fare from the airport to Singapore EXPO & MAX Atria is about $15 and to the city about $20, subject to surcharges.
There are two taxi stands:
Foyer 1 Taxi Stand – I42 (this is near to the MAX Atria)
Foyer 2 Taxi Stand – I02

By Private-Hire Car
Ride-hailing services are a popular and convenient transport option. Note that fares may fluctuate depending on commuter demand or peak hours. There are two drop-off and pick-up points for private-hire cars:
MAX Atria
Foyer 2

Refreshments and lunch:
Refreshments and lunch will be served during all 5 event days.


Recommendations for your security
The crime rate in Singapore is generally low. Violent crime is rare. Even so, be aware of the risk of street crime, in particular bag snatching. You should pay particular attention to personal belongings while in crowded shopping malls and markets, at the airport, and while traveling on public transportation. Take care of your passport. Leave valuables in a hotel safe if possible. Don't leave valuables in unattended vehicles. To avoid credit card fraud, do not carry multiple credit cards on your person, do not allow credit cards to be removed from your sight, avoid giving credit card information over the phone, and use only secure Internet connections for financial transactions.