With an extensive curriculum and a life dedicated to public safety, Araújo Gomes accumulates practical and theoretical knowledge in several areas related to public safety and risk management. The military is Colonel of the Santa Catarina Military Police Reserve, having served in the corporation from 1985 to 2020. He is also known for work in strategic level consultancies in the area of public and private security.
Speakers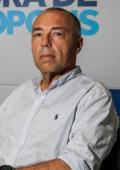 Araújo Gomes
Municipal Secretary of Public Security
Brazil
Among his main activities, the period in which he served as: Disaster Response Director of the State Department of Civil Defense of Santa Catarina (2004 and 2005); having participated as a member of the Brazilian Delegation in the World Forum on Disasters which produced the UN World Strategy for Disaster Reduction (Marco de Hyogo – Japan, 2005); General Staff Officer in the area of Operations, Training and Doctrine of the Military Police of Santa Catarina (2005 to 2010); and Invited collaborator of the Ministry of Justice in the Organization of the World Social Forum – Liaison Officer (Pará, 2008).
He was also a guest Collaborator of the Ministry of Justice (Liaison Officer and Theme Leader) in the organization and presentation of the Olympic Project – Security Theme to the delegates of the International Olympic Committee (Rio de Janeiro, 2009); Deputy Commander of the Military Police of Santa Catarina (2017); General Commander of the Military Police of Santa Catarina (2018 to 2020); Secretary of State for Public Security of Santa Catarina (2019); International Observer at the International Qualification Exercise in Romania for the FIEP – International Association of Gendarmeries and Police Forces with Military Status (Romania, 2017); President of the Superior Collegiate for Public Security and State Official Expertise (Santa Catarina, 2019); President of the National Council of General Commanders of Fire Brigades and Military Police of Brazil (2019 and 2020), among other experiences.