UR2020 is now fully virtual.
The Main Event, which will include keynotes, plenaries, Ignites, and other exciting surprises, will take place primarily on Tuesday, December 1, at a time period to be determined. Other plenaries will also be featured on Wednesday, Dec. 2 and Thursday, Dec. 3.
Technical Sessions and Focus Day Events are now combined as "Community Sessions". Each Community Session will be scheduled in 55-minute blocks in one of the following time periods:
2:00 – 5:00 UTC (business hours for East Asia, the Pacific)
10:00 – 13:00 UTC (business hours for West Asia, Middle East, Africa, Europe)
15:00 – 18:00 UTC (business hours for Middle East, Africa, Europe, Americas)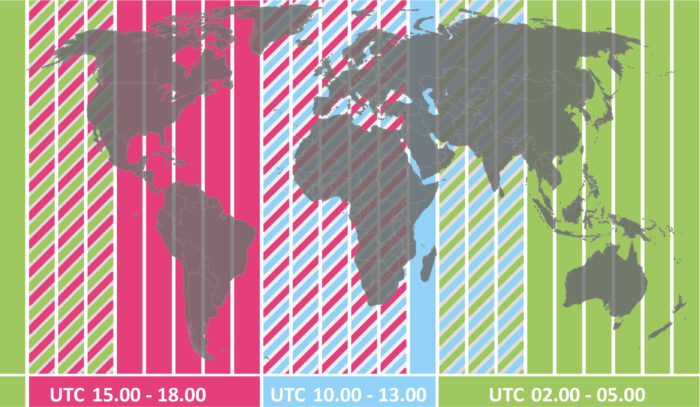 This map illustrates locations where each UR2020 time block occurs between 8:00 and 19:00 local time. Please use a time zone converter to understand how it affects you. 
To get a sense of types of events and sessions you can expect at UR2020, please check out the previous pages for the Community Sessions. Please note that these specific events may change, as we are working with the content organizers to confirm their event.